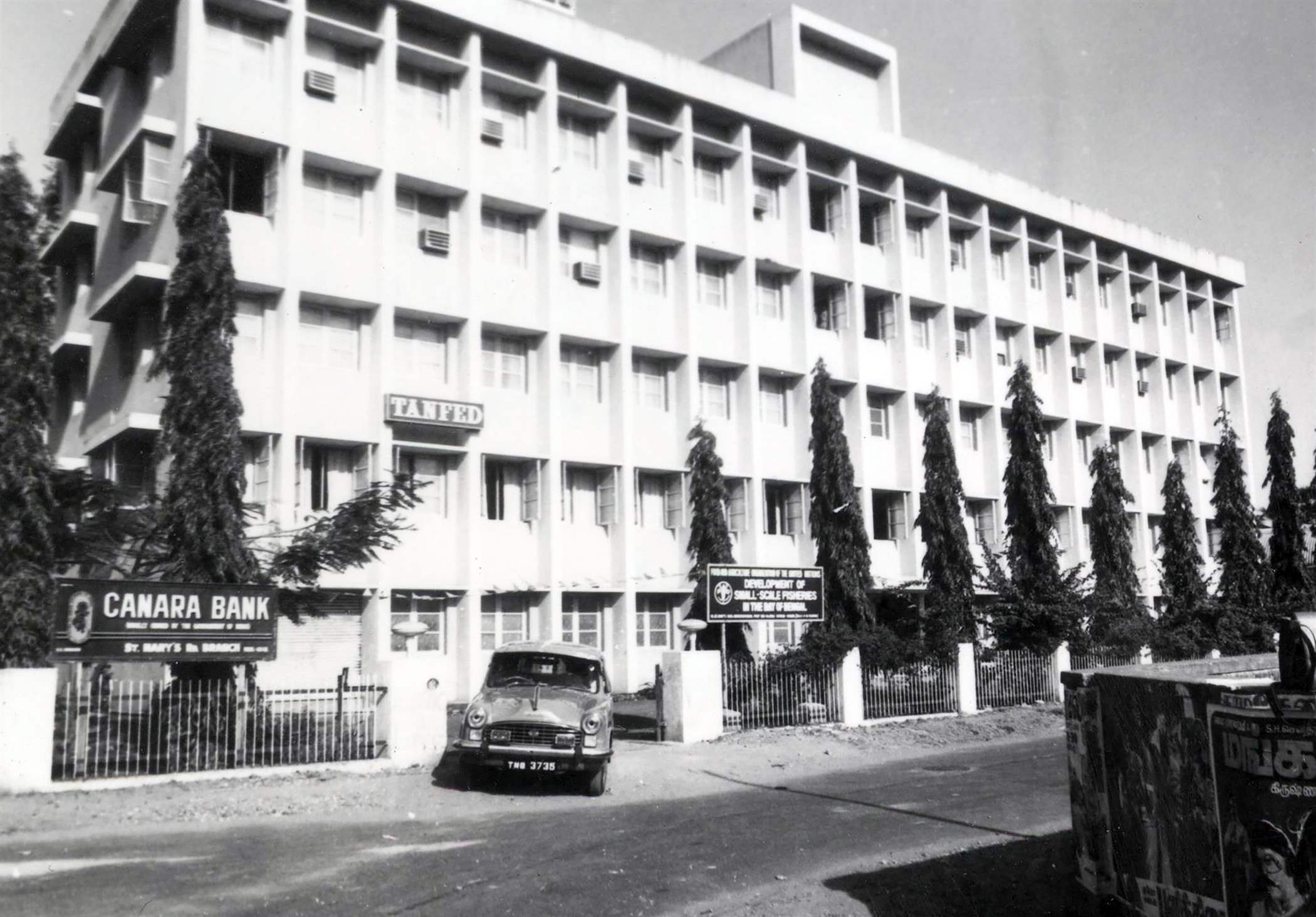 The Bay of Bengal Programme (BOBP) was established on 1 April 1979 with its office at Chennai, India with Mr. Lars O Engvall as the first Director, India as a multi-agency regional fisheries programme of the FAO — Food and Agriculture Organization of the United Nations. Its span covered seven countries bordering the Bay of Bengal, Bangladesh, India, Indonesia, Malaysia, Maldives, Sri Lanka and Thailand.
BOBP was implemented in THREE phases: the 1st Phase (1979-1986) focused on small-scale fisheries; 2nd Phase (1987-1994) on Fisheries Development and 3rd phase (1994- 1999) on Coastal Fisheries Management. The third phase was extended and got culminated with its transformation as an Inter-Governmental Organisation (IGO) in 2003. The Third phase was headed by Dr Kee Chai Chong.
FIRST PHASE (1979-1986)
During the BOBP's first phase, funded by Sweden, the Programme helped develop, demonstrate and promote new techniques, technologies and methodologies in fishing craft and gear, aquaculture, extension, post-harvest fisheries and fishery resources. These included new and better types of fishing craft and gear, improved propulsion devices such as engines and sails, improved aquaculture and post-harvest technologies, better extension methodologies (mechanisms for bank credit to fisherfolk, non-formal education for fisherfolk and fisherfolk children, people's participation in fisherfolk development, a more active role by women in stimulating their own development), improved stock assessment techniques.
SECOND PHASE (1987-1994)
During the second phase, funded by Sweden and Denmark, the Programme continued the activities of the first phase, with a stronger emphasis on fisherfolk communities. New projects included radio programmes for fisherfolk in Sri Lanka, integrated extension services in Thailand's Ranong province, development of fisheries extension services in Bangladesh and Maldives, training for small enterprise development in Langkat district (Indonesia), promotion of Rapid Rural Appraisal as an extension tool throughout the region, introduction of a fish market for fisherwomen in Tamil Nadu, India.
THIRD PHASE (1994-2000)
During the third phase, funded by Denmark and Japan, the BOBP has focused on fisheries management. The core project was "Integrated Coastal Fisheries Management in the Bay of Bengal". The immediate goal was to create better awareness on the needs and benefits of fisheries management on the part of all fisheries stakeholders in member-countries. The eventual goal was ensuring better fisherfolk conditions through sound management techniques.
Major sponsors of the BOBP included the governments of Sweden, Denmark, the United Kingdom, Japan, and member-countries of BOBP. Other donors at various times included UNDP (United Nations Development Program), UNFPA (United Nations Population Fund), IMO (International Maritime Organization) and AGFUND (the Arab Gulf Fund for United Nations Development Organizations), World Bank, Global Environmental Fund (GEF), etc. A few FAO/TCP projects were also carried out in member-countries.
Several countries — Holland, Germany, Norway, Sweden, Denmark, UK, Switzerland, Belgium, Japan — had donated to BOBP, the services of several young APOs (Associate Professional Officers). The FAO has been the main executing agency throughout.
BOBP-IGO (2003 onwards)
The Bay of Bengal Programme Inter-Governmental Organisation (BOBP-IGO) was evolved from the erstwhile Bay of Bengal Programme (BOBP) of the Food and Agriculture Organization of the United Nations. The establishment of the BOBP-IGO was conceived during the early stages of the third Phase of the BOBP and finally endorsed through a resolution at the 24th Meeting of the Advisory Committee of the BOBP held in Phuket, Thailand in October 1999.
The BOBP-IGO Agreement was formally signed by the Governments of Bangladesh, India and Sri Lanka and Maldives in 2003 and Dr Y S Yadava lead the IGO as its Director during 2003-2021.